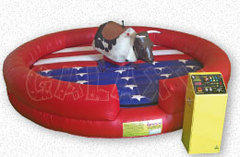 Setup area: 20' x 20' Flat area
Outlets: 2
Mechanical Bulls
Let's Go To The Rodeo!
This
IS
the mechanical bull for your event. All the original action and features of the original but in a new, friendlier environment. The RoboBull, covered with real cow hide cover, flexible rubber horns, and a leather grab strap, is mounted much lower than it's predecessor. To cushion the inevitable fall off is a large soft inflatable air mattress of fire retardant PVC. The unit is competently controlled from the sophisticated control console by our trained operators to ensure your safety and enjoyment.
2 hour rental, extra hours $150 each.